WANCE THERE WAS A CREEPI DAY WEN SPONGEBOXXX ASKED SQUIDWARXXX OUT UN SQUIDWARXXX SAID NU SO DEN SPONGEBOXXX GOT PEED OFF AN GRABBED A ANDGUN AN SHOT SQUIDWARXXX IN THA BULLS. DEN I BURNED THE TAPE FOR EVAR UNTILL THA NEX DEH WEN I GUT HUME FRUM BEIN AN INTERN AT NIPLEODEON STUDIOZ AN THA TAPE WAZ BACK TOGETHER AN EVIL PATRIXXX WAZ DERE AN E STARTINED 2 PANCH MY FACE AN WILLEH BUT DEN I TRIEDING TO KICK `IM BUT E IS PULLED MY LEG OFF AN IT R8 HURT. DEN SQUIDWARXXX AN SPONGEBOXXX AN PATRIXXX CAME OUT AN BEATEN EVIL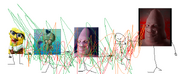 PATRIXXX BUT ITS NO USE CUZ EVIL PATRIXXX IS R8 STRUNG AN HE DEN KICKS MA `EAD IN. DAT R8 HURTS AN DEN I START CRYIN AND DEN I DIED MYSELF. LOL. DEN A SKELETON POPPED OUT MABEY.
EH NUH.
END.
WROTED BY CATTY.NET.