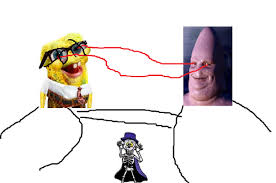 EVIL PATRIXXX HAS A FREIND!!! HE IS CALLED SPUNGBOXXX OR DSOMETHIGN AND HE IS SO SCURREH! EVERY TIME I SEE HIM I POOP MY PANTS! BUT THERE IS TH LAUST EPISUDE WITH HIM AND EVIL PATRIXXX TRY TO KILL EACH OTHER,,
AND WHEN U WATCH IT U SHIT BRICK
FIRST PATRIXXX USES HIS LAZER EYES TO KILL SPUNGBROXXXX THEN SPUNBOXXX GO DIE AND THEN A SEKLETRON POPS OUT!!w1 THEY SAID WHEN U WATCH IT U DIE BUT IT IS OEN THOUSAND SIX YEARS AGO SO GOOD LUCK FINDING IT!